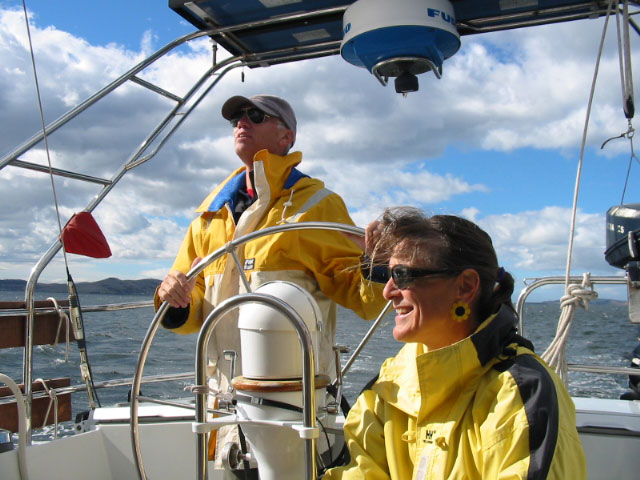 Beth and I grew up in Minnesota, about as far from salt water as it's possible to get in North America. I started dreaming about visiting Polynesia when I read Thor Heyerdahl's books Kon-Tiki and Aku-Aku at the age of 10 or 11.
I learned to sail one summer at the University of Minnesota, Duluth, which is on Lake Superior. UMD had a fleet of 420s, 14 foot planing dinghies. Great fun. I moved up to crewing on bigger boats the next year, and somewhere along the way it dawned on me that one day I might own a seagoing sailboat. The seed was sprouting.
Beth was an Army brat and sailed on small boats as a youngster in Hawaii and on small lakes in Minnesota.
After college, we moved to Juneau, Alaska, where we built two houses in our "spare time" (with our own hands, not by writing checks to contractors). Remodeled another house. Started a software business and a physical therapy business.
We purchased our first sailboat, a Rawson 30, in 1978. We cruised fairly extensively on it around Southeast Alaska, and eventually upgraded to two larger sailboats. We did a 3-year cruise of the Pacific in 1989-1992 on our Valiant 40 Achates, and another, longer cruise (mostly the same places) from 2001-2006 on RED, our steel Waterline 48.
We sold RED in 2006 upon our return from the Marshall Islands.
We now live in Chimacum, Washington, where we're finishing the third house we've built and generally enjoying land-based life after 18 years of living on sailboats.
Careers
Beth is a retired physical therapist and I'm a mostly-retired software developer.
Hobbies and other interests
We both like building stuff.
Beth has a variety of interests, including jewelry making, colored pencil drawing, miscellaneous artsy pursuits, cooking, and a bunch of other things. Knitting and spinning come to mind.
I'm a mostly self-taught CNC machinist, welder, woodworker, electronics buff, and whatever else interests me.
Oh, yeah, and I make miniSpinners.